Fic: Trouser Snakes on a Plane (NC-17) (Cliche #31)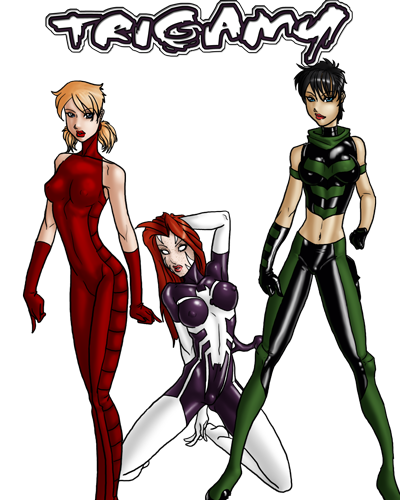 Title:
Trigamy
Author:
JoeHundredaire (
joehundredaire@tthfanfic.com
)
Rating:
NC17/FR21.
Pairings:
Xander Harris/Kate Bishop/Cassie Lang/Gwendolyn Reilly
Disclaimer:
Marvel owns the Young Avengers, Spider-Man, and all related characters. Never quite figured out who owns the Buffyverse, but I know for a fact that it's not me…
Summary:
Xander had WAY too much to drink last night…
Joe's Note:
Can anyone tell me what time it is? That's right… it's still time for gratuitous smut! With four people! So I proudly present to you… Trouser Snakes on a Plane 2.0! Annnnnd… warning time.
Please don't read this if you have problems with: female-on-male oral sex, female-on-female kissing and fondling, male-on-female sex, and tentacle-on-female sex.
Wise, if you're still reading this… RUN AWAY!
Product Insertion of the Day:
*looks at what he just wrote* God, that sounds especially wrong given what the item is. For all my lady readers… if you're curious about Kate's iPod-controlled vibrator? It's real. It's called the
OhMiBod
and it sells for $69 plus shipping.
********************
'No, we're never gonna quit,
Ain't nothing wrong with it,
Just acting like we're animals!
No, no matter where we go,
'Cause everybody knows,
We're just a couple animals!'
********************
Xander sighed as he leaned back into the couch-like seat that ran across the back of the airplane's cabin.
'Sometimes, it's really handy to have an insanely rich girlfriend,'
he mused. Even if pushing his travel plans back two days would have been doable, squeezing the three girls onto the plane with him would have been a pain in the ass.
'Thank God for Kate's family's private jet. Non-stop to Cleveland, the flight left when we felt like it, and no crying babies.'
Looking around the cabin, Xander smiled. Two days ago had been the formal beginning of their bizarre, four-way relationship, sealed with a all-night sex fest that had left him limping. The rest of their time in Vegas had been spent getting to know each other, including revealing Gwen's origin to Kate and Cassie. Between that and the frequent bouts of lesbian sex, Kate and Gwen were getting along a lot better, which sealed up one of the major cracks that had existed in the new family.
At the moment, Kate was sitting in one of the rear-facing seats and tapping away on her laptop with Gwen curled up against her side. Xander was a bit scared: nothing good ever came out of them collaborating near the computer. Their last brainstorming had created the time-share Xander proposal, complete with calendars, diagrams, and 'strategic growth plans'. The way they looked up from the screen to grin at him, then at each other, before bursting into giggles and going back to work? Not at all confidence-inspiring either.
"So, are you nervous?" a high-pitched voice asked. Xander looked down to find a shrunken Cassie standing on the seat next to him. He hadn't known about that particular ability until they were packing to leave Vegas. When Kate had missed the book Gwen threw her and it skidded across the floor before disappearing under the dresser. Xander had been quite shocked to see Cassie go chasing after it, shrinking down to an inch in height just in time to disappear under the furniture. "My iPod fell through the crack and under the seat."
Xander nodded in understanding, holding one arm out as Cassie grew back to her normal size and curled up against his side. "A little bit," he confessed. "More worried about how you guys will like Cleveland than about my friends, but they're a factor too. My last girlfriend and my friends… things were awkward at the best of times."
Leaning her head on his shoulder, Cassie intertwined their fingers. "I'm sure we'll be fine," she reassured him. "If your friends hate us, I can always step on them?"
"I don't think that would help much," Xander replied, although his mind did give a little cheer at the mental image of Cassie stomping on Andrew. "Thanks for the offer, though."
The two lapsed into silence, broken only by the occasional giggle from the two girls huddled over the laptop. Xander closed his eyes and enjoyed the brief respite. While the three girls weren't hyperactive or anything, the fact that there WERE three of them meant that there was very little idle time in his day. Someone always wanted to do something, and he did his best to keep up.
Soft fingers began rubbing against the insides of his thighs and Xander's eyes snapped open. He looked down to see that Cassie's free hand had wandered between his legs. Looking over at her, he found the same little shy half-smile that meant the youngest of the group was in the mood for another bout of sex ed. "Again?" he teased.
"Hey, I'm finally legal," Cassie protested, her hand stilling for a moment before sliding up his leg a bit and resuming its gentle rubbing. "I've got two years of having only a robot as a romantic interest to make up for." She pouted. "He wasn't even an anatomically-correct robot."
Xander blinked. Hearing about robots as a reality was still a bit strange to him, but compared to demons and vampires, an artificial intelligence that had a thing for a teenage girl wasn't that far up on his 'out there' list. "Yes, because a robot with working parts would DEFINITELY make the whole situation less disturbing…"
There was a soft click as Kate closed her laptop. "No, but if she'd had a robot boyfriend with working parts," Kate remarked, "I wouldn't have made so much money by investing in Energizer…"
"That's pretty funny coming out of the girl with an iPod-controlled vibrator," Gwen said, giving the raven-haired girl a playful shove.
Kate just grinned. "What can I say? It's not my fault Led Zeppelin really is the stairway to heaven…"
At that point, Xander vowed to never, EVER again borrow Kate's iPod Video. No matter how cool her music collection was. Like the live recording of when her father hired Nickelback to play her twenty-first birthday party. Never touching it again. Nope. Maybe she had it on her laptop still? Oh God! He'd watched Spongebob Squarepants on that iPod! He felt so dirty now…
His thoughts were disrupted as he felt something warm and distinctly not him slide into his pants. Looking down, Xander found that Cassie had already tugged his zipper down and slid her hand into his fly. He shivered a bit as her fingers curled around his rapidly-hardening shaft and gently pulled it out of his pants. "Want a little help there?" Kate offered, rising from her seat and striding back towards them.
Cassie looked from the dick in her hand to Kate. "I… guess?" she said hesitantly. She ran her thumb over the head of his cock and then perked up a bit. "Didn't you say you would teach me how to give good head?"
"Mmm, I believe I did," Kate replied, dropping to her knees at Xander's feet. Putting her hands on his thighs, she gently pushed his legs apart. "Come on down here, because class is now in session."
Lately, a lot of his life seemed to have a bad porn quality to it, Xander mused as Cassie scrambled off the seat and joined Kate on her knees between his legs. He looked up to see Gwen standing behind the other two girls watching, her formerly punkish clothing shifting into a short plaid skirt and a white blouse. She gave him a wicked grin and he smiled back, before a soft tongue flicked across the head of his dick and his hips jerked. "Fuck!"
Kate laughed as she shifted a bit to the side, letting Cassie lean in to get a lick too. "Not yet," she told him. "Maybe if you're not too tired after Cassie's lesson." Gently pushing the blonde out of the way, Kate leaned down again and slowly swirled her tongue around the head of his cock a few times before pulling up. "Now you try."
"Ohhhh God," Xander groaned, hands gripping the leather seat tightly. He watched as Cassie took her turn at the bizarre 'follow the leader' game the two were playing with his cock, before looking up to see what Gwen was up to. He didn't have to look far: the redhead had dropped to her knees behind the other two and was busy running her hands back and forth over Kate's ass.
The raven-haired girl looked back over her shoulder for a second before turning back to wrap her lips around the head of Xander's cock, and didn't put up even a token protest as Gwen began tugging her pants down. She did react when Gwen hooked her fingers in the waistband of her underwear, shifting up onto her feet long enough for the redhead to pull them past her knees before settling down again as Gwen finished removing her pants and panties.
Kate came up for air and let Cassie take control again as Gwen slid over to begin relieving the blonde of her clothing. "It's all about personal style, really," she lectured, running one hand through Cassie's hair and holding it back for her. "It's a mix of your own personality, your partner's tastes, and what your own body will and won't let you do." She looked up and grinned. "Right Xander?"
"Uhh…" Xander groaned, trying to figure out what the right answer was. With Cassie's hot, wet mouth around the head of his cock as Kate's hand on her head guided her slowly up and down, 'two plus two' was rapidly approaching being an unanswerably complex question. "If you say so?"
Cassie pushed up against Kate's hand a few times before the older girl removed it and she came up for air with a soft gasp. "Wow, I never knew giving a blowjob could be so complicated," she muttered before looking up at Xander. "How am I doing so far?"
Brain slowly coming back online from the lack of stimulation, Xander gave a shaky laugh. "Can you ask that again when the big head is working?" he asked. "I've got two half-naked girls kneeling in front of me. My thoughts are pretty much stuck on 'giggity giggity gig-gi-ty' right now."
"Who's half-naked?" Cassie asked before looking down. "Huh". Looking over at Kate's similar state of undress, she blinked again. "When did that happen?"
Gwen grinned and hugged Cassie from behind, resting her chin on the younger girl's shoulder. "While Kate had her hand tangled in your hair and was guiding your head up and down our man's cock?" she offered. She wrapped one arm around Cassie's waist as the other disappeared between their bodies. Xander could barely see the black-nailed fingers as they slid between the blonde's legs, but by the way she moaned and leaned back into Gwen, he could guess what was going on. "So, Professor Bishop, are you going to continue the lecture?"
Kate stuck her tongue out but slid one hand up Xander's thigh to wrap around his cock again. "I'm not sure," she replied. "It's not worth teaching if you're going to have Cassie too distracted to listen."
"Hey hey hey, I'm paying attention," Cassie protested, opening her eyes again and staring at Kate. Xander watched as her hips began to slowly rock back and forth under Gwen's touch, but she kept her attention on Kate. "Personality, partner's tastes, abilities. Start explaining."
Turning back to Xander, Kate stroked his cock a few more times before releasing it. "Personality is just what it sounds like. I prefer it a bit rougher and faster," she said, before leaning over to wrap her lips around the head again. Xander's hands instinctively went to tangle in her hair, holding it back behind her head as her head began to bob up and down quickly in his lap. He groaned loudly as he felt the head of his cock slip into her throat and thrust his hips up hard to meet her, forcing her to take his entire length.
Kate stilled herself for a moment, letting him enjoy the sensation before she gave his thigh a hard squeeze and he released her head. She came up for air, a bit flushed and eyes watering slightly, quickly wrapping her hand back around his shaft as she turned her attention back to her rapt pupil. "But that's not for everyone," she continued. "Gwen, for instance, tends to be a lot slower and gentler than I am."
"What can I say, I go with what I know works," Gwen replied. Her own shirt melted away as her hand emerged from between Cassie's legs and she began to tug the blonde's t-shirt upward. "I use the same technique as Dead-Gwen because Mary Jane is like you, and Peter liked Gwen's blowjobs more…"
Raising an eyebrow at the rare mention of the redhead's past life, Kate thought for a moment. "Didn't you say that Gwen was like, Peter's soul mate?" she wondered. "Of course he'll like hers more."
Gwen snorted as she finally got Cassie's shirt off and then removed the blonde's bra. "Oh yeah, because I'm sure LOVE is a real big factor in how much a guy enjoys head." Tossing the bra over her shoulder, Gwen looked up at Xander. "Xander, you love us all equally right?" He nodded slowly, although he had a feeling this was going head into dangerous territory very quickly. "So that means it's all about skill. Who gives better head, Xander? Me or Kate?"
"Uhh…" Xander tried to stall for time.
'I hate it when I'm right. Quick! Which answer won't end up with me sleeping on the floor?'
He had to play this very, very carefully given that picking one would mean offending the other two. Cassie could stomp him to death, Gwen could hurt him in more ways than he could list, and Kate currently had her hand wrapped around Xander Jr. "Uhh… you're both very good, but I don't think I should make that decision until Cassie's had some time to catch up with you guys in skill so I can judge fairly?"
Cassie nodded, wiggling forward to take her place beside Kate again. "Yeah, you're supposed to be teaching me, not arguing with Gwen," she reminded her friend. "I think we'll save my whole blowjob self-identity thing for another time. Partner's tastes… that's figuring out what your guy likes and doesn't like and doing the things he likes, right?" Kate nodded. "So what's the last one?"
Letting go of Xander, Kate leaned back long enough to pull her shirt off. "Not all girls can do the same things," she replied. "For instance…" She stopped and gestured to her chest, then over to Gwen. "Gwen can obviously do stuff with her chest that isn't even an option for me. And obviously her powers give her even more unique naughty opportunities. On the other hand, she can't deepthroat… which is something you should be very careful trying. Throwing up in the guy's lap? Huge turn-off."
"Um, eww?" Cassie replied, nose scrunching up in distaste. Xander whimpered as she leaned forward again, licking at the head of his cock. "Mmm, I wonder if I can do anything kinky with my powers…" She leaned in again, wrapping her lips around the head of his cock and sucking gently.
Xander groaned and thrust his hips up a bit to meet her mouth. He gently wound his fingers through her hair as her head began to bob slowly in his lap, letting her keep control as she gave a slow and hesitant imitation of Kate's earlier performance. As her mouth slid up and down his cock, Xander noticed something. Was his hard-on actually getting BIGGER?
Wait, no. Cassie was getting smaller. He thought. Xander looked over at Kate then back to Cassie, watching as his cock continued to stretch her lips wider and wider. And the hand resting on his thigh was slowly shrinking too. Wow. That was kinda freaky kinky cool. She gagged a bit and he pulled up on the back of her hair. Cassie gave him a grateful smile and grew a tiny bit larger, before resuming her up and down motion.
Looking to his left, Xander found out that he didn't need to worry about Kate being left out. Gwen had crawled over behind the older girl, wrapping both arms around her from behind and cupping her breasts. "Mmm, careful about the size… careful about the size," Kate warned before moaning loudly and leaning her head back on Gwen's shoulder. Between Kate's slowly-spreading legs, Xander could see a thick purple tendril from Gwen's other pressing up inside Kate.
This was one of the 'unique naughty opportunities' that Kate had mentioned to Cassie, and Xander was pretty sure it was the sole thing that kept the girls from literally fucking him to death. As he watched, Gwen slowly snaked tentacles around Kate's arms and legs and lifted the girl into the air. Smirking, she slowly turned Kate so Xander could watch as one thick tendril of symbiote thrust in and out of her pussy, while a smaller one gently wiggled into her back passage. That caused Kate to let out an even bigger moan, and Gwen quickly generated another tentacle to stuff into Kate's mouth.
"Hmmm?" Cassie murmured, sending vibrations up and down Xander's cock. Tilting her head to the side, her eyes widened as she took in her best friend's state. Her mouth slid off of Xander with a wet pop and she pouted. "I want tentacles too!" she exclaimed.
Xander looked incredulously to his slick, swaying cock to where Gwen was busy working Kate over with her tentacles. The redhead grinned sheepishly. "Aren't you supposed to be learning how to give head?" Gwen reminded her. "You already know how to float in midair and scream out orgasms. We've seen you do it."
Leaning back to sit on her heels, Cassie grinned sheepishly. "But… tentacles!" she protested. "And you've got my professor all floating off in orgasm land. How much more teaching am I going to get today?" Kate let out a long, slow moan as Gwen's tentacles continued to thrust in and out of all three holes. "Yeah, that's what I thought."
"Well, I guess if Xander is willing to… settle for me… then you can have some tentacles too?" Gwen offered.
Xander looked from Cassie, who was slowly inching across the floor towards Gwen, over to the redhead herself, standing there in just a short plaid skirt and a naughty smile as thick purple tendrils grew out of one arm to pleasure Kate.
'I should probably be feeling really insecure about the fact that Cassie is willing to ditch me for Gwen…'
he mused,
'but I'm surrounded by girls that can bench-press more than me using only one arm. And Gwen hasn't left me hanging yet.'
Aloud, he replied, "Cassie did very well for her first lesson. I think she's earned a reward."
Nodding in agreement, Cassie let out a squeal as Gwen extended tendrils from her other arm. The dark purple tentacles made an odd contrast to her pale, freckled skin but Cassie didn't seem to give a fuck as they wrapped around her body and lifted her into the air. Xander winced a little as the blonde's legs were pulled wide open by Gwen's grip before two tentacles penetrated Cassie's holes. The youngest member of their little family was also the loudest, and Gwen hurriedly shoved a tentacle into her mouth so they wouldn't attract the attention of the flight crew.
"I swear, I'm going to have to cut those two off soon or they'll be addicts," Gwen muttered. Moving the girls through the air, she passed between them. The last remnants of her clothing disappeared as she moved to sit on Xander's lap. Wiggling her ass against his cock, she grinned. "Don't feel bad though. Take it from me, that multiple penetration thing is sweeeet."
Xander wrapped his arms around Gwen's waist, planting a kiss against her neck. "How's that supposed to make me feel any better about the fact that my girls would rather have you than me?" he wondered.
Leaning back into his touch, Gwen rested her head on his shoulder. "It could be worse. They could be bringing home other guys to get the same thing?"
"Ahh, I see what you did there," Xander mused. "I can either let you do it and stop feeling inferior, or worry that they'll bring other guys home to fuck. Very cunning."
Gwen giggled and arched her back as his hands slid up to cup her breasts. "I can be from time to time," she replied. "Kate and Cassie might even tell you that I can be a very… cunning linguist."
Shaking his head, Xander gently took her nipples between his fingers and tugged. Gwen moaned and writhed on his lap. "I do believe someone was planning to take care of me since she decided to distract Cassie?"
"What did you want me to do?" Gwen wondered. "Slip some tentacles into her and let her bite your dick off when she orgasmed and lost concentration? That'd kinda suck for my plans for like… the next eighty years." Xander gave a full-body shudder at that possibility. "Yeah, that's what I thought. Don't worry, I'll take good care of you." She slid off his lap and sank to her hands and knees on the floor in front of him.
Xander slid off the seat eagerly to kneel behind her but paused as she let her chest rest on the floor, reaching back to spread her ass cheeks for him. "Uh, Gwen?" he asked. "Not that I mind a bit of variety among you girls, but don't you ever want… you know… normal sex?"
Looking back over her shoulder, Gwen raised an eyebrow at him. "I hate condoms, I'm not on the pill, and I don't want to risk getting pregnant," she listed off. "So unless you really want to be the father of a wall-crawling little brat nine months from now..?"
Xander blinked and processed that. Visions of standing on a chair to try and pull his son off the ceiling popped into his mind before he shook his head to clear it. "Okay, anal it is then." Wrapping one hand around his dick, he pressed the head against Gwen's ass. She let out a soft whimper and pushed her hips back towards him as he thrust, and then he was in.
As he slowly thrust in and out, gradually pressing deeper each time, Xander took a moment to contemplate the sensation again. Frankly, he didn't see what the big deal about anal was. It was pretty much like normal sex, except girls tended to turn you down a lot more when you asked for it. A bit tighter at first, but after three days of repeated sodomy, that wasn't really a factor anymore. Not that he'd pass it up when offered, but he wouldn't go out of his way to ask for it.
It probably wasn't the best for Gwen either, he mused as he grabbed her hips and continued to thrust in and out of her. Anya had given him a rather large presentation about the inferiority of anal versus vaginal sex as far as helping a woman achieve orgasm, complete with diagrams. Putting one hand on the small of her back to help balance, he leaned forward a bit and slid one hand underneath her body before sliding back between her legs.
"Oh God!" Gwen shouted as his fingers found her clit. "Yes, yes, yes!" she chanted, rocking her hips back harder and harder to meet him. Above them on either side, Kate and Cassie continued to grow even more vocal as the symbiote worked them to orgasm and Xander could feel his own rapidly approaching as well. "So fucking good…"
Giving one last thrust, Xander pushed himself as deeply into Gwen's ass as he could and held there. He could feel Gwen's ass grinding against his hips as she kept pushing back, fighting for any last bit of penetration and he rubbed her clit faster. His head rolled back and he let out a loud grunt before cumming deep inside Gwen's ass.
Beneath him, Gwen gave one push back before her voice rose in an unholy, two-toned shriek of girl and symbiote. Kate and Cassie joined in soon after as the probing tentacles reached a frenzied pace. Giving one final thrust as he shot the last of his load, Xander slumped forward onto his hands and knees over Gwen.
'Talk about a family cumming together when it needs to,'
he thought inanely.
The cabin slowly quieted as each girl went limp, their soft panting the only noise to be heard. First Kate and then Cassie were gently lowered onto one of the seats before the tentacles retracted into Gwen's body again. Xander's cock slipped free as the redhead collapsed to the deck, and he gave a tired smile before lowering himself next to her and wrapping one arm around her waist.
Four heads turned to look as the door at the front of the cabin opened and a head hesitantly poked through. The handmaiden/flight attendant/servant that Xander had met upon boarding was staring at them with wide eyes. Maria, he thought? "¡Caray!" she exclaimed, before pulling back and slamming the door.
This wasn't quite written specifically for the Kink-a-Thon, but I finished it in November, it fits a prompt, and I figured... what the hell! Have some smut! :)